Brand image is so much more than just a logo – it encompasses all perceived aspects of your business, product or service. Brands that have a stronger image online perform substantially better, especially if a consumer is on the fence. 
So, what is Brand Image?
Brand image is the customer's perception of your brand based on their interactions. It's important to ensure you make a good impression on your potential customers. After all, first impressions usually take place online these days anyway, right? It's important to keep up with our ever-growing digital world, which means evolving with the changes!
Here are 5 key tips on developing your brand's image online:
1. Improve your Search-ability.
It's important that you appear first when a consumer searches for your brand on Google. We come across a lot of businesses that do not appear for their own name for various reasons. If you don't appear immediately, you're creating doubt for a potential deal to occur. It's important to appear legitimate in order to solidify any interest someone may have in working with you.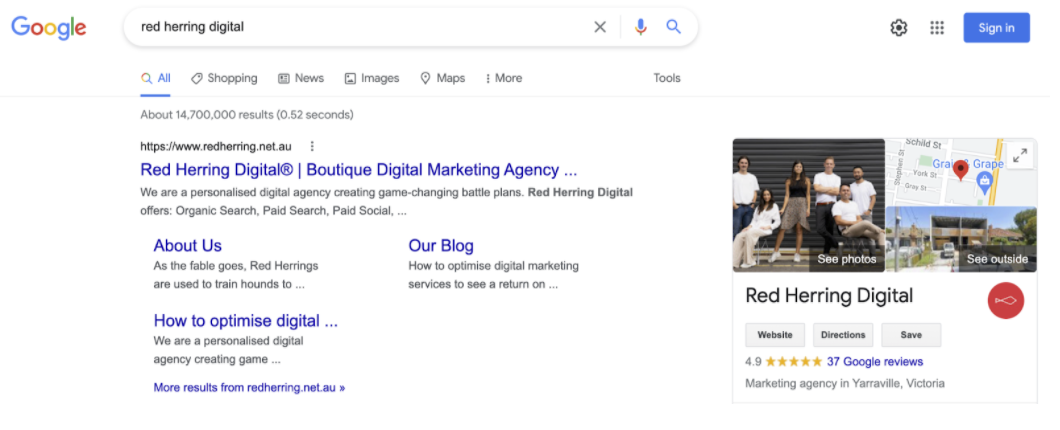 Want your website to show up straight away when searched? Set up an SEO (Search Engine Optimization), not to be confused with ongoing SEO work to rank for search terms. An SEO setup will ensure that your website appears for your brand name, which ultimately improves the quality and quantity of website traffic to your website.
We suggest installing and configuring Yoast SEO, which offers a free plugin to all. Ensure that all sets are completed, including using correct Meta Headings and Meta Descriptions, as well as your link to your Google Search Console. Once completed, allow 4-6 weeks to see the changes appear properly. In some cases, your website may have developed some vulnerabilities from malware which may prevent Google trusting it. If this is the case, please get in touch so we can investigate further. 
2. Authenticate yourself!
It's important for your brand that you install an SSL Certificate – a digital certificate that provides authentication for your website and enables an encrypted connection. 
Google only sends traffic to websites it trusts – which makes sense, right? Installing an SSL Certificate on your hosting will allow your website to be 'secured' and display a padlock icon beside your URL in the address bar.

We suggest contacting your hosting provider to install one for you. However, if you would prefer a more professional approach, book a consultation  with us as we offer a complimentary certificate with all our hosting packages.
3. Make Google Your Friend!
Create a free Google My Business account and add as much information as possible, including images of your team. 
It is important to add information such as an address or phone number, otherwise consumers will lose trust. If you do not have an address, we suggest looking into a virtual office. 
Once you set up Google Reviews, you need to ensure you have consistent and regular reviews. Once you hit 20, aim for 50, then 100, and so forth. Create a 'set and forget' automation, where customers are asked automatically to give you a review. This can either be an automated email with the correct link or a small graphic in your email signature promoting a review.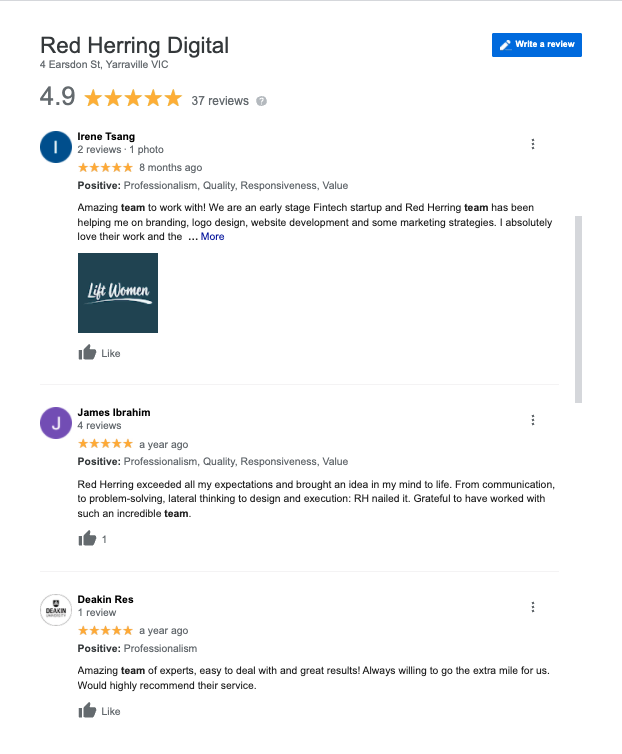 4. Be Social Media PRESENT
If you want an engaging, and interactive social media audience, it is important to be present and post at least once a week. Don't show things that are on your website. It's important to make your social media platforms a space where people can go to learn more about your brand and its current happenings.

Ensure that you convey your point of difference and establish your pillars. All businesses benefit from being on social media. Consumers will always do their research, which means when they do, you want to make sure you're active and convey relevant information pertaining to your brand's image. 
Plan out what you're wanting to post, prior to uploading. You want to make sure your style is recognisable and unique to you.
Take us, for example – we aim to incorporate our branding throughout each of our tiles, making it uniquely us, as well as adding interest to the feed layout. 
5. Refine your Website!
Going hand in hand with social media presentation, It is equally as important to have a well structured website that accurately positions your brand in the marketplace. 
So, how do you determine where you sit? 
Put yourself in the shoes of your potential customer and compare your site to your competitors, direct and in-direct. Be honest and open minded! 
Ensure your website design and imagery are in line with your brand and are consistent across not only your website, but on your social media platforms. For instance, if you're using certain colours, make sure your social is in line with the palette as well. It's the small things making your brand consistent, which will in turn make it more attractive to consumers.
Copy is equally, if not more important in developing a professional and coherent brand image. Delivering your brand's message through Social copy, articles, and website information is what makes your brand stand out and appear well established and esteemed. 
I mean, let's be honest, no one is going to trust a brand with wordy sentences and incorrect grammar…
We hope this helped in giving you more insight to how you can develop and refine your brand's image online. If you'd like a complimentary audit of your brand or have any digital marketing related questions, please don't hesitate to reach out to us at Red Herring Digital.