Access the Power of Facebook Ads – Social Media Marketing in Melbourne
When you advertise on television, you pick a time slot, a channel and essentially an audience to broadcast your advertisement to. However, you can't be sure who the people sitting in front of the television are, or if they just have the television on for background noise. When an advertisement is played over the radio, your listener is most likely driving which means your marketing strategy needs to be memorable enough to inspire action once the driver arrives home.
When advertising on any social media platform, especially Facebook, you know that your audience is actively scrolling, processing and reacting to the information presented in front of them. They are also a quick click away from being able to buy your product.
Developing an engaging, converting and eye-catching Facebook advertisement requires considerate and clever social media management in order to get your dollars worth.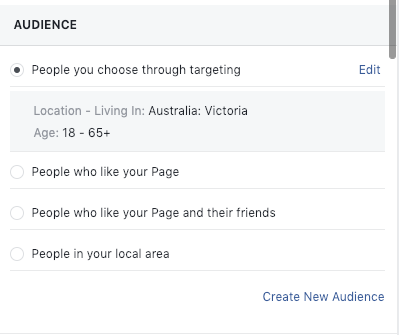 Choose your Audience, Control your Budget
You may be posting your advertisement in Melbourne, but that doesn't have to stop you from immediately reaching an audience in Tokyo. Facebook allows everyone from social media marketing companies to start-up business owners to create a niche, targeting audiences. By allowing users to narrow down their audiences age, gender, location and their interests, occupations and relevance to the company, Facebook provides the perfect formula to assist advertisers in reaching exactly who they want to target.
How much money you spend determines the range of how many people will view your advertisement. Depending on your audience specifications, as little as $10 over a couple of days can expose your ad to one to two thousand potential clients. Your social media agency can help create your target audience list and then determine the correct budget to reach the best results possible.   

Provide Something Valuable
Social media marketing companies can come up with the best campaign the digital world has ever seen but it is useless if what is on offer isn't valuable.
When creating a Facebook ad campaign consider using the exposure not only to generate leads and interest around your brand but to offer a one-off deal that is perhaps only applicable to those who saw your ad or for a limited time only. This way those who stumble across your Facebook ad are prompted to take action, rather than just scroll past.
Call to Action
The choice to add a call action button on your social media Facebook ad should not be taken for granted. Facebook offers seven button choices with different prompts from booking to sending messages through Facebook or even WhatsApp. This actively helps direct potential customers towards performing the desired action or directs leads towards the exact information you want them to consume.
Be Direct, Be Relevant
Often brands think that if they are to offer something in high demand or align their services or product with something that is trending, they will be rewarded with high traffic to their website. However, any social media agency worth their buck knows that website traffic doesn't always mean conversion and gaining clicks through clickbait does not build valuable or trusting relationships with possible clients.
While there is and always will be a percentage of every audience that is passive, accepting information that is immediately presented to them, active audiences are very important to consider when creating attention-grabbing content. In order to successfully cater to the inquisitive, analytical minds of active audience members, it is important to advertise and present the most relevant information first. Is your company offering an amazing deal on a service? A clever social media marketing technique is to include the price and the package in your caption or image. This way, your prospective customers are aware immediately of what you are offering, in turn creating faster, single click conversions.
If you want to streamline your Facebook advertising campaigns, to develop a successful and engaging social media marketing campaign or to simply work with a reliable enthusiastic social media marketing agency in Melbourne contact us at Red Herring Digital today.