Nailing social media marketing and strategies can be a tricky task, but ensuring the time and attention to detail and data is crucial for a digital agency to ensure they're kicking goals for their client.
Yes, the right content for the right platform can mean more clicks and views, but your ad's need to convert a humble impression into a profitable result. So how do you make it happen? Well, it's all about understanding your audience.
Take Facebook, finding the right audience that converts clicks into customers can be like finding a needle in a haystack— but when you find that perfect balance, it can be a seriously beneficial addition.
It is crucial that you spend equal amounts of time in developing engaging stories through your content and detailed targeting. It is just as important that digital agencies take the time to review the big data with reporting mechanisms and procedures and adjust the strategy accordingly.
Remember, quality over quantity is a golden rule when it comes to social media marketing, it's not so much about reaching the most impressions but more so the right people.  Let's dive into the social media marketing Red Herring has done with the Grovedale Hotel to explain how the key successes to nailing the digital marketing.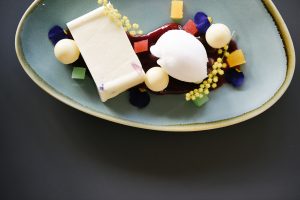 A touch of class at the Grovedal Hotel – Photography by Red Herring Digital
Here's a bit of insight into the client— From fine dining to fancy pub meals, the Grovedale Hotel is located in the competitive hospitality sector in the suburbs of Geelong City. With over 50 competitors within a 7km radius, our objective was to push food, drinks and promotions such as happy hour, but to really ramp up foot traffic in the venue so customers can explore the other facets of what they have to offer. So what does this mean from a targeting perspective? Well, to break it down it means a diverse range of target audiences for our fancy creative. From Troy who is a young single tradie to Marie who enjoys a nice meal with her mature social club.
Let's start with Troy – We run campaigns only on Fridays 11 am to 4 pm to promote our great happy hours for those who don't have plans. With creative suited to Facebook and Instagram Stories, we took a user-generated approach (filmed off iPhones) so our ads don't appear as an ad, but more like your mate who filmed it. Our posts receive huge engagement as it's super targeted and really effective.. As a result, the Grovedale Hotel on a Friday night is a busy hub in the south of Geelong.
So Marie isn't really interested in $3 pots with the boys, but we know she enjoys a good meal and is willing to pay a little more for a nice night out. Well, we got her as a follower a few weeks back with our post on a delicious surf and turf (which you need to try). There is no doubt we're on her mind now, but how do we turn that follow into a customer? Our carousel campaign running on Facebook which has a major push for bringing in our following and friends into a venue snapped her up. With creative that shows delicious food, tasty drinks, and live entertainment you can't go wrong for a nice night out.
By regularly adjusting our creative on our promotions, and analysing the data received from past advertisements on social media marketing and website analytics we're able to understand the Grovedales audience and ensure our posts and campaigns turn into enthusiastic customers. As a digital agency being able to recognise what works best is the key to turning any brand into the brand.
There are other nifty features such as Instagram stories, which allows brands to interact with consumers on a personal, unpolished level. As a digital agency, we do factor this into the social media marketing mix, as it creates a personal experience from anyone's perspective.
The Grovedale Hotel is just one example of how Red Herring Digital Marketing has managed to find the right audiences, tell great stories and create appealing content for effective, result drive, social media marketing. If you need assistance in making this happen, contact us today for a free consultation.